Deutscher Text (English:HERE):
Heute besuchte ich einen 1-Tages Workshop Kreative Bildgestaltung. Er wird regelmäßig von Andreas Martin (fotoworkshop-stuttgart.de) durchgeführt. Glücklicherweise war das Wetter großartig, es gab jede Menge Sonne (seltener Gast diesen Winter), so daß wir die meiste Zeit draußen sein konnten. Treffpunkt war "Die Liederhalle" in Stuttgart. Während der Vorstellungsrunde sollte noch jeder Teilnehmer kurz beschreiben, was er sich von dem Kurs verspricht, d.h. wo man sich verbessern wollte.
Behandelt wurden eine ganze Reihe (oft schon bekannten) Themen, jeweils verknüpft mit praktischen Übungen: Muster, Linien, Kontraste; v.a. verschiedene Formen von Kontrasten, die man verwenden kann: schwarz & weiß, dunkel & hell, Farben, reich & arm, glücklich & traurig; lebendige & sich bewegende Motive (gehörte mit zu meinen Favoriten); bewußte Bewegungsunschärfe (hat auch viel Spaß gemacht); Verwendung verschiedener Persprektiven…
Mittags gab es einen kurzen Pitstop im Vapiano; Andreas lud uns zum Essen ein (auch später nochmal ins Felix zu Tee/Kaffee); ein herzliches Dankeschön auch hier nochmal an Dich Andreas für die beiden Einladungen; das was extrem großzügig von Dir!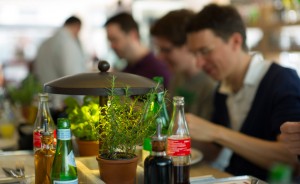 Regelmäßig überzogen wir die Zeit (5min) die wir für jede Übung hatten (sorry Andreas!), so daß es am Ende ein bischen knapp wurde, aber Andreas war stets geduldig und jeder Teilnehmer erhielt die Möglichkeit ihre/seine guten oder nicht so guten Schnappschüße (größerer Lernerfolg) vorzustellen. Andreas gab hier immer konkrete, situationsbezogenen Verbesserungsvorschläge.  Andreas ist wirklich ein großartiger Trainer, er ist sehr, sehr motivierend, geduldig and v.a. besitzt er ausgesprochen gute Kommunikationsfähigkeiten. Also los raus mit Euch, trainiert Euer Auge und übt, übt, übt…
Der Available Light Kurs klingt auch vielversprechend; Andreas ließ auch einige Tips für die spätere Bearbeitung der Fotos in Adobe Lightroom einfließen, so daß für mich eigentlich feststeht, auch diese beiden Kurse im späteren Frühjahr zu buchen. V.a. ist es ein Heidenspaß und man lernt immer viel.
Die Fotogallerie findet sich HIER.
Update 22. März:
Da heute früh wirklich prima Wetter (toller Nebel) herrschte, machte ich einen kleinen Spaziergang, währenddessen ich versuchte mich an die verschiedenen Tips & Trick von Andreas zu erinnern, die wir im Seminar gelernt hatten und die es nun gilt praktisch umzusetzen. Ich versuchte langsam zu machen (verbesserungwürdig), möglichst viele mögliche Aufnahmeperspektiven auszukundschaften (definitiv verbesserungswürdig) und gleichzeitig bei der Komposition des Fotos mit den verschiedenen Möglichkeiten von Linien, Mustern, Farben, Kontrasten, Tiefenschärfe, etc. zu arbeiten. Sich bewegende Objekte gab es heute früh allerdings nicht 🙂  Zugegeben wurde die Speicherkarte auch wieder mit vielen langweiligen und überflüssigen Aufnahmen gefüllt, aber insgesamt stellte sich bei mir das Gefühl ein, daß das Training Kreative Bildgestaltung langsam sich im Bewußtsein verankert. Das basiert sicherlich darauf, wie Andreas es schafft all diese Themen super an jeden Teilnehmer "rüberzubringen". Jetzt heißt es üben, üben, üben. Wenn ich jetzt mir die heutigen Fotos ansehe, muß ich zumindest sagen, daß sie mir persönlich gefallen 🙂
Die Fotogallerie "Fog" findet sich HIER
Herzlichen Dank nochmal Andreas, ich glaube wir machen doch Fortschritte hier 😉
Today I visited a 1-day workshop (Kreative Bildgestaltung) which is regularly held by Andreas Martin from fotoworkshop-stuttgart.de concentrating on creative composition. Luckily, the weather was great, we also had sunshine (something rare this winter) so we were able to be outside for most of the day. Meeting point was "Die Liederhalle" in Stuttgart.
We went through a whole bunch of (very often well known) topics which included various practical units covering: DOF; how to use lines, patterns; the different forms of contrast e.g. you can use: black & white, dark & light, colors, poor & rich, happy & sad; moving objects (this was one of my favorites); blurring (that was fun as well); using different positions and perspectives…
At lunchtime we made a quick pitstop at Vapiano; Andreas invited us to lunch there and later at Felix for coffee/tea; a bit thank you again also for these two invitations; this was extremely generous!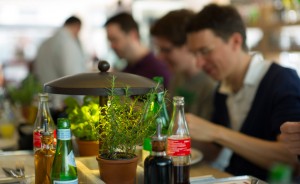 We regularly extended (sorry Andreas!) the 5min we got for each exercise, so towards the end we ran a bit short of time, but Andreas was really patient with us and each participant got the chance to present their good or not so good shots (more useful) at the end of each exercise; Andreas would recommend here different approaches in order to get a better shot in this particular situation.
Andreas is a great chap, who is extremely motivating, patient and most importantly, he has excellent communication skills. Highly recommended. Now go out there an train your eye and practice, practice, practice….
Andreas Available Light course sounds also very interesting, he gave us also a couple of tips for Lightroom, so I am convinced I'll join both courses, as it is simply fun and you learn a lot.
Gallery can be found HERE.
Update March 22:
As today the weather was quite beautiful in the morning (wonderful fog) I went for a walk, while I tried to remember the different tips and tricks Andreas Martin showed us in the seminar: I tried to slow down (still room for improvement), check many more different angles (can be also certainly improved) and  work on my composition using lines, patterns, colour, contrasts, DOF etc. No moving objects today 🙂 Yes, I also ended with a lot of boring and crappy photos but overall I feel that the training from Andreas is slowly sinking in (this is most probably down to his excellent teaching skills), and at the end of the day I like these shots quite a lot.
Gallery can be found "Fog" HERE.
So thanks Andreas again, I think we are slowly making progress here 😉